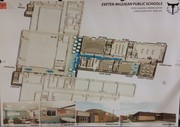 Building Project
The east academic wing and the west entries building project at the Exeter site was completed the summer of 2016 and was used for the first time the 2016-17 school year.
The next project was the remodel of the locker rooms at the Exeter site.
Thank you to everyone for their support of these projects as we prepare our facility for the future and future Timberwolves!